It's shaping up to be a milestone month for a special member of our Delivery Team. Aaron Adams put on a Good Guys uniform for the first time last Summer. Since then, he's become a shining example of how a positive attitude and tough work ethic can translate into real world success.
Following stints at a couple of auto parts stores and a construction company, Adams made his way to Good Guys Moving & Delivery in August 2021. He joined our team as a Mover, but his days on a moving truck were numbered. Come November, Adams shifted gears.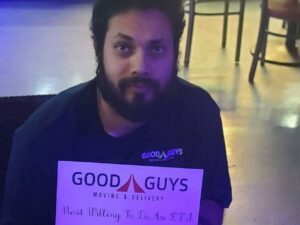 "The Delivery Team was swamped by the Christmas rush and Black Friday, so [Operations Manager] Ricky [Saenz] asked me to go help them out", Adams said.
Adams' work ethic was expectational enough to prompt Delivery Manager Samuel Bennett to offer him a permanent position on the Delivery Team at our annual Christmas Party.
"He's willing to go above and beyond — go and run routes by himself that would typically take two people to complete. He's versatile. He can run deliveries for all of our vendors", said Bennett.
While the lion's share of Adams' time has been on the Delivery Team, some of his most memorable experiences come from his days as a Mover.
"I once did a two-for-one move — half of it was unloaded in Maine and the other half in Maryland. It took six days to finish the job, but we got to see the leaves change colors, which was beautiful," Adams said.
His favorite part about working for Good Guys is the fresh start he gets each day.
"It's a different office every day from the truck to the customer — you never know what you're going to see out there," Adams said.
On top of being our Good Guy of the Month, Adams also put a ring on it this month!
The Good Guys Family would like to congratulate Aaron on reaching these milestones.
Thank you for all that you do to make our company a better place.
Want to learn more about the housing industry? Check out our articles and studies here.