Each day he greets his co-workers with a signature phrase: "Dude!"
Kevin Brumley says he was destined to become a Good Guy.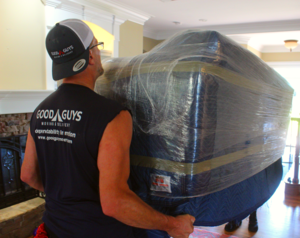 "I feel like someone put me here for a reason".
Brumley is now an invaluable member of the Good Guys team and he claims his faith is what brought him to Stuart Street.
"I'm the happiest I've been in my life".
Kevin hasn't missed a single day since joining Good Guys in 2020.
Brumley served our nation as a member of the U.S. Marine Corps from 1990-1993.
His service is something he carries with him each day.
"My favorite moves are the ones where we get to help veterans."
Outside of moving, Kevin loves riding motorcycles, working on hot rods, and driving his '66 Chevy II.
We are very blessed to have him on our team. Thank you for your hard work, Kevin!