Realtor Referral Program
Our Realtor Referral Program Is Designed to Drop Prices for Your Company and Clients
Give your customers an all-inclusive experience and earn personal credit through a partnership with Good Guys. Sellers like you reap benefits from our Good Bucks Realtor Referral Program.
Good Bucks Referral Program
When the closing papers are signed, buyers need a trustworthy team of movers to handle their belongings with care.
We provide award-winning packing, moving, and storage services to ensure each customer has a smooth transition to their new home.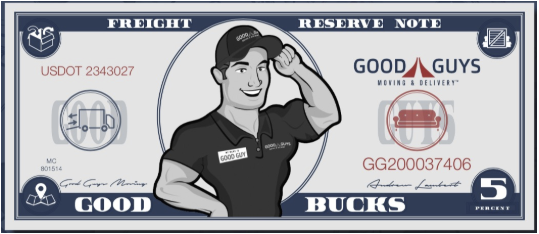 Good Bucks can be used as credit at any Good Guys location. Good Bucks can be used for any service or material that we offer, including: Moving, Delivery, Storage, Packing, and Packing Materials.
How do I earn Good Bucks?
It's simple. Refer Good Guys to a client and when that person mentions your name, we credit Good Bucks to your account.
What do you get for making a referral?
5% of the total cost of every move you refer to Good Guys.
What do your customers get?
5% off their move and outstanding customer service.
Create an account using our app. Be sure to submit all referrals through the app to receive credit! After the move has been completed, we'll send your Good Bucks Gift Certificates through the mail or deliver them in person.
Request a Free Estimate from the Good Guys
To schedule your move or receive a free estimate please complete our quote form or give us a call at (423) 531-3841
Why Our Customers Love Us
Good Guys are the Right Guys
We all hate moving, even if we are hiring someone else to do it. However, the Good Guys crew made it actually enjoyable. Prompt, efficient and mannered those folks did an awesome job. Definitely would recommend them to anyone... Thanks so much, Good Guys Moving.
This was a great company to work with. I will recommend them to everyone I know looking to move in the Chattanooga area. Their employees are very professional and handle your items with the utmost care. They take care of your items and your home as if it were there's.
Stay Up to Date with Good Guys
Lorem Ipsum Dolor Sit Amet