Our Good Guy of the Month is an even-tempered professional who proves that actions are much stronger than words. Brandon Owens is approaching one year in a Good Guys uniform.
He makes up one-half of our resident moving power couple. Together with his wife Sherie, Brandon tackles each project with speed, efficiency, and decorum. Their team has received a wealth of recognition from happy families across the Southeast.
"He's always willing to go above and beyond for this company," said Operations Manager Ricky Saenz.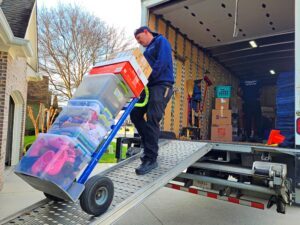 Before suiting up in Blue and Black, Brandon worked in masonry. But, once the slow season arrived, he his son-in-law Austin referred him to Good Guys — and he hasn't looked back!
"My favorite part about working here is the workout. I'm constantly going up and down ramps and steps. You definitely don't want to skip leg day," Owens said.
He looks fondly on his time with Good Guys, which has opened him up to new experiences.
"One time, we finished a move up north. Then, we stopped and walked about a mile into Lake Erie after it had frozen over," Owens said.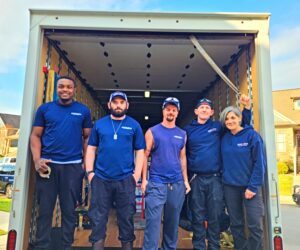 But, it's not all fun and games. Owens has had his fair share of sticky situations.
"During one move we had a 300-pound cabinet that had to go up three flights of stairs. It was just me and Sherie. So, we had to use moving pads to drag it up the stairs. It was rough. But, we can usually overcome most things."
When he's not lifting furniture, Brandon spends his time hiking, fishing, and spending time with his kids and grandkid.
We are very grateful for Brandon and everything he brings to the table. Thank you for your hard work and dedication!